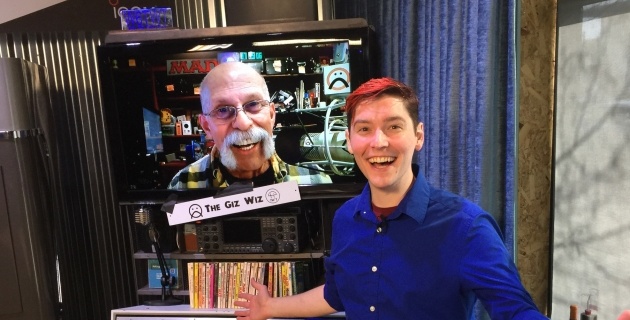 "The Giz Wiz" features DeBartolo and Chad "OMGChad" Johnson sharing gadget reviews, a random gadget, and a pick from the "Gadget Warehouse."
---
Dick DeBartolo is a podcaster and writer, most famous for writing for MAD Magazine. DeBartolo was also a writer for TV game shows, beginning with Barry-Enright before moving on to Goodson-Todman. Writing for Match Game, DeBartolo is credited with coming up with the bawdy and suggestive style of questions that the show is remembered for. Dick appears as a monthly guest of Computer America, which is heard in over 30 markets including New York and Boston, as well as a streaming broadcast on the internet. He also has a periodic "gadget" segment on ABC World News Now. DeBartolo made over 100 appearances on Live with Regis and Kathie Lee, offering purchasing advice about various devices and products.
---
Chad Johnson is an Let's Play commentator and YouTuber. He is a member of Mindcrack, a gaming focused content creation group. He previously worked for Brian Brushwood, traveling across the country, internationally, and performing for celebrities. He was also credited as a Creative Consultant on various episodes of Discovery Digital Networks' web series "Scam School". In 2011, Chad moved to the San Francisco Bay Area to work for TWiT, a well known podcasting company. He now lives in Los Angeles, in the heart of Hollywood! Chad became a full-time content creator producing his own shows and series on YouTube and Twitch, reaching an audience of over 6 million viewers/month.

---
Josh Cheney produces the show. He is based in Atlanta, Georgia and is not new to online production. He also produces OMGcraft, Night Attack, JuRY, Politics! Politics! Politics!

---
Andy Buckle ​ edits the show.